This Red oak sits on the corner of our lot and has been decline for several years. Being unhappy with several vague diagnoses, I contacted the Cornel plant pathology lab. They suggested I send in a bark sample. Unsure as to exactly how to do this, and not wanting to miss any diseased wood, I decided to take a large (6" by 6") and deep sample. I used a hammer and wood chisel to obtain sample bark around several weep holes. The following pictures, taken September, 2006, show the sampling process.
The Cornell diagnosis was that this tree had a Phytophthora disease (species unknown). I resumed my investigation in May of 2008, using my scanner to more closely examine parts of the tree, as shown in the following pictures.
The following set of pictures wase taken in early October 2008, using a 400x digital microscope. Since I believe the spore release took place shortly after the above pictures were taken, I didn't really expect to see many spores left. The first two pictures are of the top of a leaf.
Since it's just as easy to check the leaf bottom as the top, the following pictures show the bottom of the leaf at 400x.
White canker often likes to hide within the body of a leaf. The following set of 6 pictures check out that possibility via leaf cross-section views at 400x.
The above set of pictures make a strong case for a white canker infection. But experience has shown that twig cross-sections provide the best evidence for white canker infections. The next set of 7 pictures are all cross-section views of a 1/8 inch twig made with a digital microscope (400x).
This large red oak stands right in front of our house. It probably is 20 inches in diameter and is about 60 years old. Yet for the past 5 years it has been in decline. More branches die every year. The bark has developed fissures and cankerous material is now (2008) pushing out of a large vertical split shown in picture 1. These pictures were taken in early September 2006.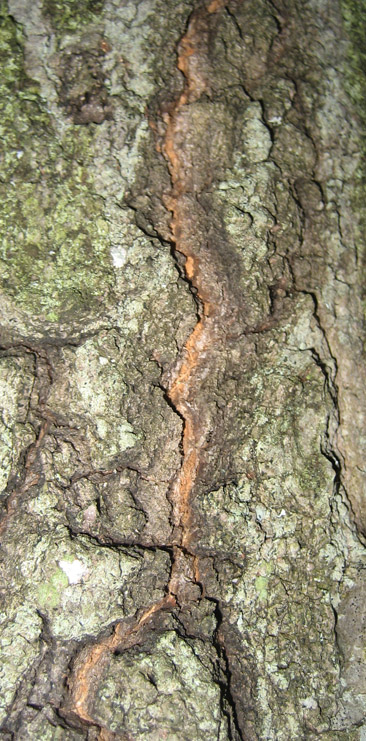 1
This long vertical bark fissure seems to expose a peanut-butter colored interior. Splits like this are very typical of White Canker. In addition, the bark will have an "unhealthy" look to it, and lichen will more easily grow on it.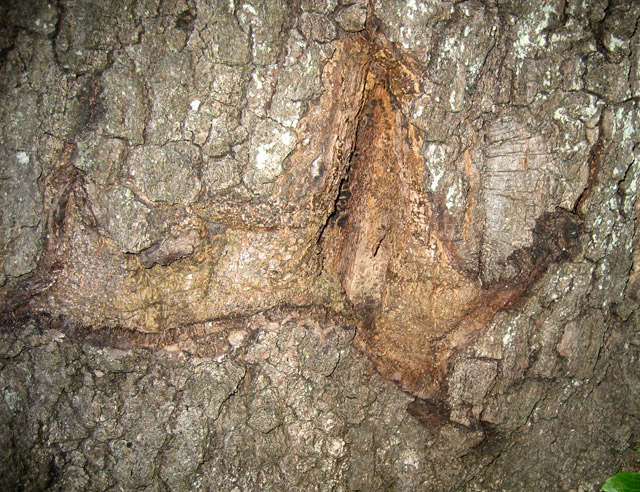 2
←
→
This tree was rotting under its bark, indicated by wet spots (blue arrows). I pulled off some of the decayed bark a year or two before this picture was taken. Here you can see where wound wood was trying to heal the damage, but the wound wood itself is unhealthy. This tree is continuing its decline.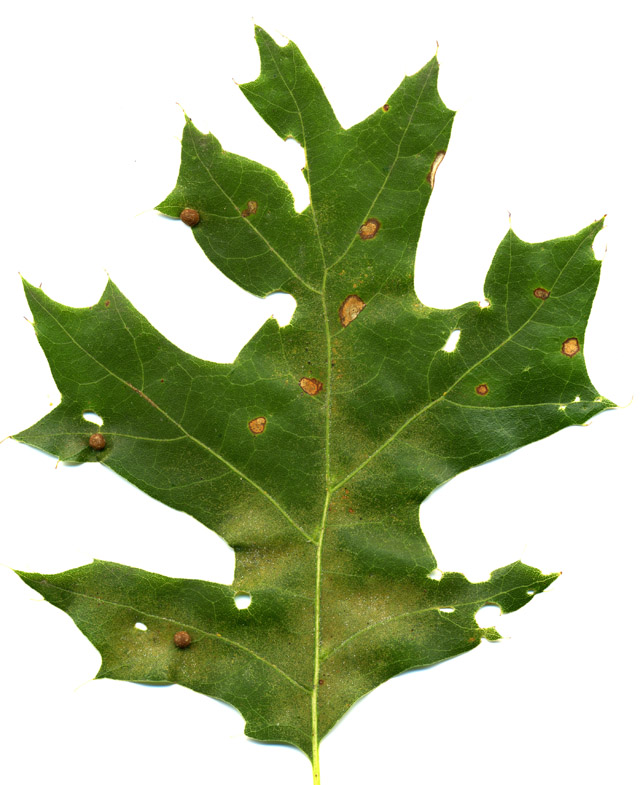 3
A leaf from the tree showing signs of White Canker. The principle sign here is the puckering of the leaf - a common characteristic of this disease. The yellow smudges may be White Canker spores, but at the time this picture was taken I didn't have a microscope to verify that. The White Canker probably significantly weakened the leaf, so that it more readily suffered from insect and fungal attacks.
The following pictures were taken in early June 2008. The first two were taken with a high resolution scanner. The remainder were taken with a microscope (400x)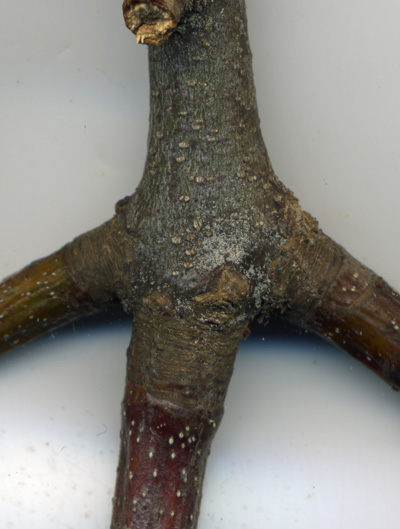 4
The branch junction shown here is from a quarter-inch diameter live branch, but one in decline. This junction was the first branch junction from the tip of a branch (18" in) and was about 10' high. The entire branch was completely clear of all signs of infection except for the center of the branch junction facing the ground, where there was a high spore population, as seen here.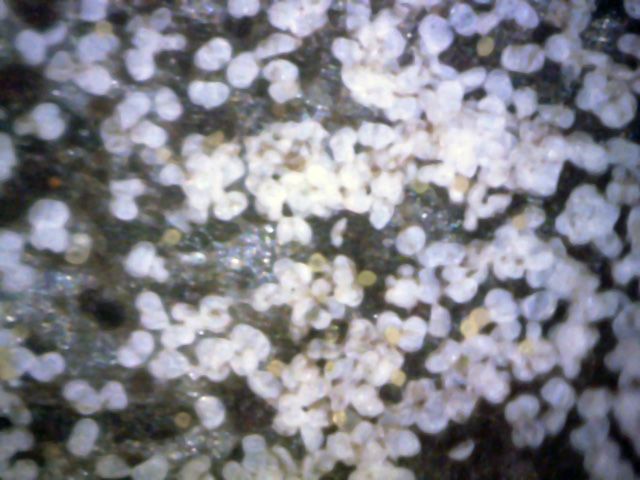 6
This is a 400x picture of that area in picture 4 having a high spore density. At this magnification it is evident that the light yellow coloring of the spore patch is due to many milk-white mature spores sprinkled with yellow embryonic spore tissue. (Note: a major white canker spore release took place a day or two later.)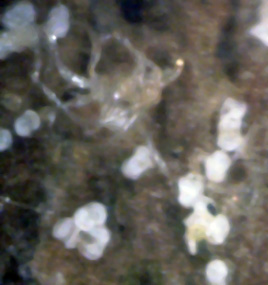 7
←
↓
→
Here's another picture taken within that same spore patch. The blue arrow points to what may be an embryonic spore evolving into a mature white spore (the black spot on it may be indicative of the transformation taking place). The picture also shows something very common on infected leaves - a white spider-like object that appears translucent. This spider object appears to have a some spores associated with it (green arrows).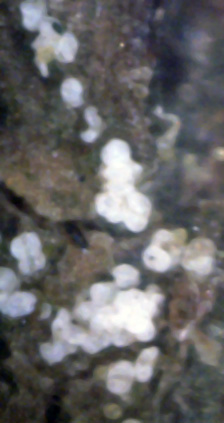 8
↓
↓
Here is another interesting picture from that same spore patch. The green arrows appear to show two places where embryonic yellow spores are currently transforming into mature white spores. Note the black spot on the side of one of the white spore hemispheres.

5
This 3/4 inch diameter branch segment was about 6' from the Branch Tip. While this segment hosts an enormous number of spores (click the picture to get a close-up view), these spores seem to be concentrated at the branch junctions on one side of the branch.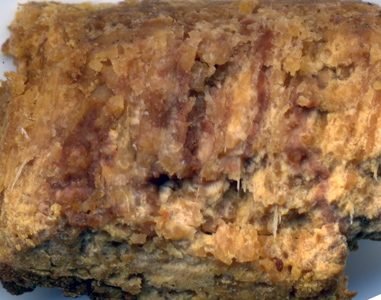 9
When oaks are badly infected with white canker, they will often develop a vertical protruding canker that runs from a foot or two above the ground to about the 6 or 7 foot level. This oak had such a canker. Using a chisel, I chipped off a piece of it measuring about 1/2 by 3/4 inch. Physically, the canker piece seemed to have the texture of weak particle board. This is what it looked like when placed on a scanner and scanned at 2400 dpi.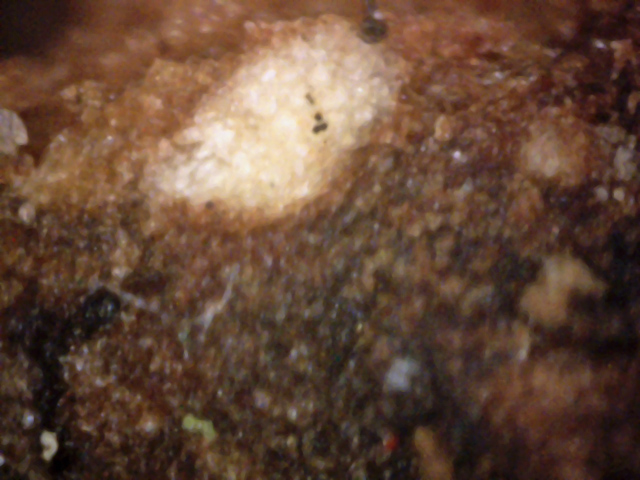 10
This is what the surface of that chunk of canker material looks like under a 400 power microscope. Note the big white blob of cankerous material under the bark.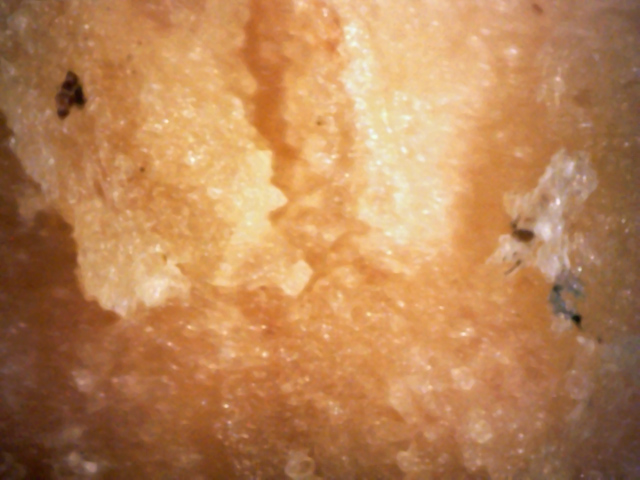 11
This is what the interior of that chunk of canker material looks like under a 400 power microscope. It is a waxy, translucent material, and seems to be a mixture of wound wood and white cankerous substance.
In summary, this tree too is clearly infected with White Canker. The evidence is in the puckered leaves, the distinctive bark fissures, the unhealthy bark, the spore colonies on the bark at the branch nodes/junctions, and the characteristic spores themselves.